What is the Random Quartet
The Random Quartet is not intended as an alternative to the classical quartet, but as a new dimension of it, offering a vision of music in its totality, without barriers.
Besides Bach and Mozart, in fact, in our repertoire you will find music (mainly arranged by us) by John Williams, the Beatles, Metallica, Queen and by a lot of other authors that apparently very far from the idea of a classical string quartet. This approach free from constraints makes us find to our ease both in contexts such concerts, festivals or cultural events, both in corporate events or gala's dinners.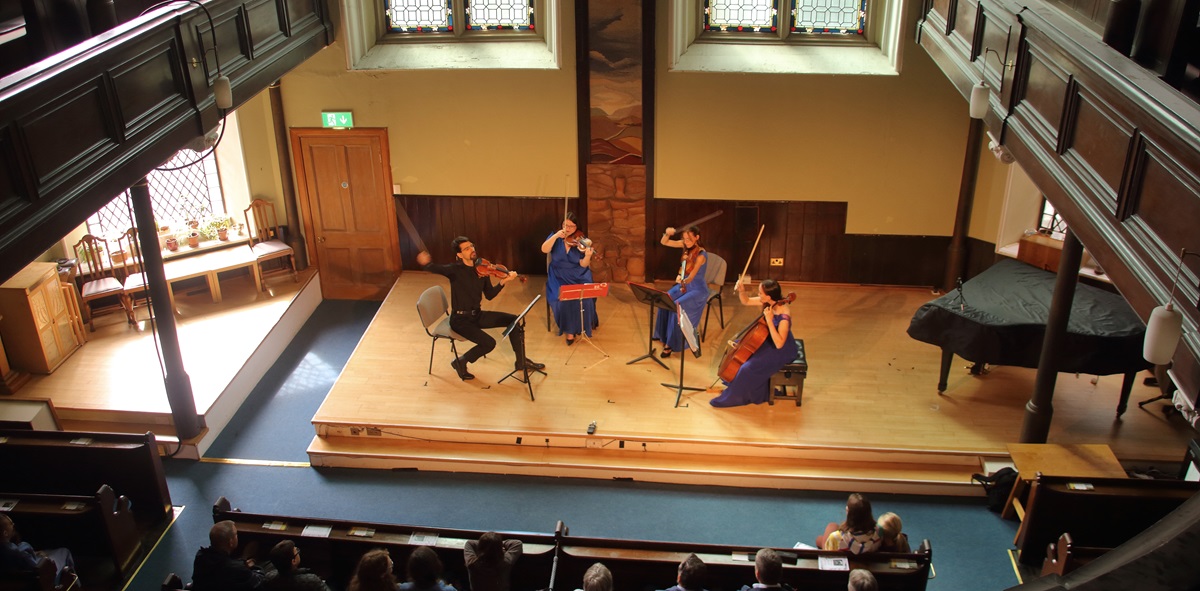 Curriculum
The Random String Quartet was founded in 2005 in the class of Prof. Ravetto, at the "G. Verdi" Conservatory in Turin; after having passed the final examination, comes the need to continue with a musical speech even outside the academic context.
Little by little, the idea of a quartet released by the traditional canons takes shape, a quartet in which can cohabit very different musical tastes: beginning from these premises it develops a "total" musical experience, although based on the solid foundations of the classical tradition.
Since 2007 they start therefore the experiments with arrangements of film scores and pop songs, until the landing to metal music, to witness the incredible versatility of this ensamble.
Precisely because of its peculiarities, the Random String Quartet has enjoyed considerable success during the numerous performances and initiatives carried out during its years of activity; we mention the recording of the CD "Just Four Strings","Just Four Strings" e "In Dreams" (the latter released in 2016, entirely dedicated to famous soundtracks), the performance of numerous concerts in theaters and even in more unusual venues (great Hall of the Turin Conservatory, Mole Antonelliana, Hiroshima mon Amour, Auditorium Orpheus, Turin Botanic garden, Racconigi Royal Castle etc.) on the occasion of musical seasons such as the Filarmonica of the Teatro Regio, Kalendamaya, Piemonte in Musica etc., as well as participation in the "Nessun Dorma" television program, broadcasted on Italian national television.
The interest in folk music has led the Random Quartet to rank in the first place in the selection for the Northwest of Folkest 2018, thus obtaining the possibility to perform in the most ancient and prestigious folk festival on the national territory.
The deep vitality and resourcefulness of this eclectic string quartet led it to have a large following out of the national boundaries too, thanks to modern media as YouTube, on which channel there are today hundreds of thousands of total views.

Viola
Tancredi Celestre

Cello
Chiara Manueddu