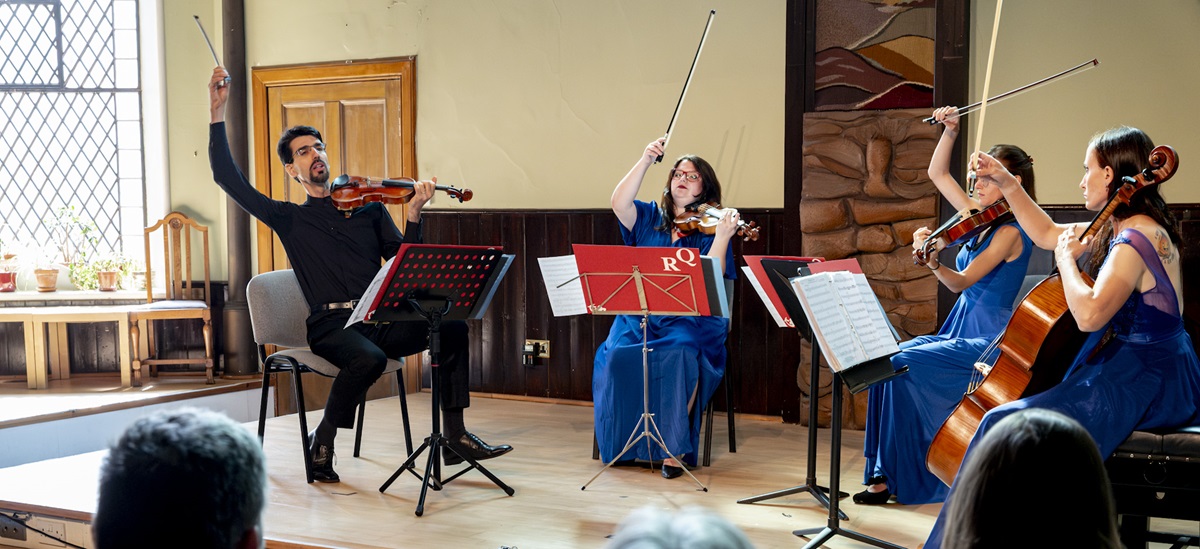 Propositions de programme
String Wars - (Musique de film)

Nicola Piovani: La vie est belle
Nino Rota: Roméo et Juliette
Ennio Morricone: Il était une fois l'Ouest
Andrea Morricone: Cinema Paradiso
Henry Mancini: La panthère rose
Abba: Medley (extrait de "Mamma mia")
Alan Menken: Histoire éternelle (extrait de "La Belle et la Bête")
Danny Elfman: Les Simpson
Howard Shore: Concerning Hobbits (extrait du "Seigneur des anneaux")
Alan Silvestri: Retour vers le futur
Monty Norman: James Bond
Klaus Badelt: Medley (extrait de "Pirates des Caraïbes")
John Towner Williams: Le thème d'Hedwig (extrait de "Harry Potter")
John Towner Williams: Binary Sunset (extrait de "Star Wars")
John Towner Williams: Marche impériale (extrait de "Star Wars")
John Towner Williams: Cantina Band (extrait de "Star Wars")

Walking with Ennio - (Film Music)

Nino Rota: Roméo et Juliette Suite
Nino Rota: Amarcord
Nino Rota: 8½ / La dolce vita
Andrea Morricone: Cinema Paradiso
Ennio Morricone: Gabriel's Oboe (de Mission)
Ennio Morricone: Romanzo (de 1900)
Ennio Morricone: Il était une fois la révolution – La Califfa
Ennio Morricone: El mercenario
Ennio Morricone: Il était une fois dans l'Ouest
Ennio Morricone: Titles (de Pour une poignée de dollars)
Ennio Morricone: Deguello (de Pour une poignée de dollars)
Ennio Morricone: Medley (de Et pour quelques dollars de plus)
Ennio Morricone: Titles (de Le Bon, la Brute et le Truand)
Ennio Morricone: L'ecstase de l'or (de Le Bon, la Brute et le Truand)
Ennio Morricone: The Trio (de Le Bon, la Brute et le Truand)

John Williams, the legend - (Film Music)

John Towner Williams: Hedwig's Theme (de Harry Potter)
John Towner Williams: Jurassic Park
John Towner Williams: Raiders March (de Indiana Jones)
John Towner Williams: Schindler's list
John Towner Williams: Somewhere in my Memory (de Maman, j'ai raté l'avion)
John Towner Williams: Superman's March
John Towner Williams: ET Flying Theme
John Towner Williams: Star Wars Intro (de La Guerre des étoiles)
John Towner Williams: Cantina Band (de La Guerre des étoiles)
John Towner Williams: Binary Sunset (de La Guerre des étoiles)
John Towner Williams: Yoda's Theme (de La Guerre des étoiles)
John Towner Williams: Anakin's Theme (de La Guerre des étoiles)
John Towner Williams: Imperial March (de La Guerre des étoiles)
John Towner Williams: Rey's Theme (de La Guerre des étoiles)
John Towner Williams: The Jedi steps (de La Guerre des étoiles)
John Towner Williams: March of the Resistance (de La Guerre des étoiles)
John Towner Williams: The Throne Room (de La Guerre des étoiles)

Legno vivo - (Musique Folk)

Anonimo: Greensleeves
Stevenson: The Last Rose of Summer
Tchaikovsky: Andante Cantabile dal quartetto No.1, Op.11
Dvorak: Finale dal quartetto "Americano" No.12 Op.96
Trad. Irlandese: Erin Shore / Toss the feathers
Trad. Danese: Ribers No. 8 (Sterrands Rand)
Trad. Norvegese: Vigstamoin
Trad. Danese: Fem får fire geder
Trad. Svedese: Vals efter Lasse i Lyby
Trad. Danese: Brudestykke
Trad. Svedese: Ack Värmeland du Sköna
Trad. Danese: Den Toppede Høne / Tørvedansen
Trad. Norvegese: Gammel Reinlender fra Sønndala
Trad. Norvegese: Schottis

A Xmas Quartet - (Musique de Noël)

Arcangelo Corelli: Pastorale dal Concerto Grosso per la notte di Natale
Johann Sebastian Bach: Brich an o schönes Morgenlicht (dall'oratorio di Natale)
Georg Frideric Handel: Pifa (dal Messiah)
Hans Gruber: Stille Nacht
Adolphe Adam: O Holy Night
Anonimo: What Child is this? (Greensleeves)
Trad. Inglese: The Coventry Carol
Trad. Gallese: Deck the halls
Trad. Svedese: Ack Värmeland du sköna
Mykola Leontovych: Carol of the Bells
Irving Berlin: White Christmas
Jule Styne: Let it Snow
Répertoire
Le répertoire du Random Quartet est un de ses principaux points de force; très vaste et hétérogène, il s'est enrichi dans les ans merci à un travail infatigable de recherche, uni à beaucoup de transcriptions faites pour notre compte de morceaux dont versions n'existaient pas pour quatuor.
Télécharger ici!

Ils disent de nous
Continuez

"I listen to this every saturday morning to uplift me and decompress me, and spin myself back in the right direction..."&nbsp [Douglas McCann]
"just amazing!"
"Riuscite a fare della musica che davvero mi trasporta in un altro mondo... vi auguro tanto successo!"
"Wow! Nice arrangement guys. Very nice layered effect. You all ought to try out for America's Got Talent next season."
"just cant find the words..."
"Musica perfeita, arranjo de vcs perfeito! Maravilhoso! parabéns pelo excelente trabalho rapazes!"
"Ihr seid echt super!!! Weiter so!!!!"
"I heard only a "crack" in my heart.."
"Oh my Lord. how can somebody play this my favourite song like this. so beautiful"
"Original and wonderful!"
"That's pretty epic"
"Explosive, wonderful, no word to describe.."
"I'm in the ghoosflesh. please play more moreee? never stop"
"A new dimension in Nightwish music! I can say I like your cover? more that the original version... Great work!"
"Where do people play this kind of music? If i knew; i would probably visit every week, this would make me just stand there in awe with my mouth wide open"
"Cannot believe you guys made a guitar solo on the violin!?"