In detail
To know us even more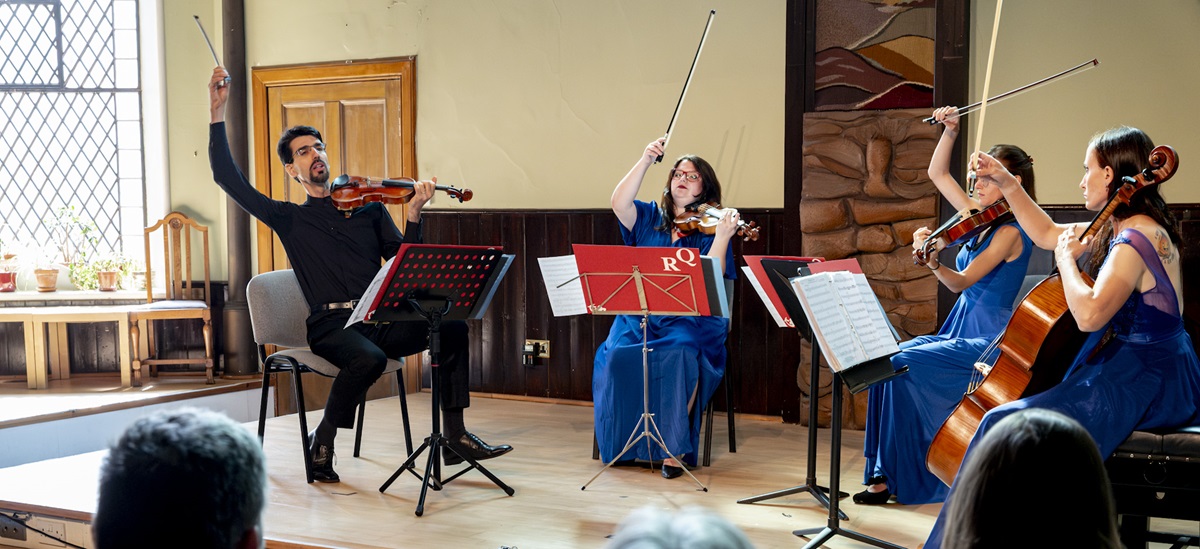 Program proposals
String Wars - (Film music)

Nicola Piovani: Life is Beautiful
Nino Rota: Romeo and Juliet
Ennio Morricone): Once upon a Time in the West
Andrea Morricone: Cinema Paradiso
Henry Mancini): The pink panther
Abba: Medley (from "Mamma mia")
Alan Menken: Tale as long as time (from "Beauty and the Beast")
Danny Elfman: The Simpsons
Howard Shore: Concerning Hobbits (from "The Lord of the Rings")
Alan Silvestri: Back to the Future
Monty Norman: James Bond
Klaus Badelt: Medley (from "Pirates of the Caribbean")
John Towner Williams: Hedwig's Theme (from "Harry Potter")
John Towner Williams: Binary Sunset (from "Star Wars")
John Towner Williams: Imperial March (from "Star Wars")
John Towner Williams: Cantina Band (from "Star Wars")

Walking with Ennio - (Film Music)

Nino Rota: Romeo and Juliet Suite
Nino Rota: Amarcord
Nino Rota: 8½ / La dolce vita
Andrea Morricone: Cinema Paradiso
Ennio Morricone: Gabriel's Oboe (from Mission)
Ennio Morricone: Romanzo (from 1900)
Ennio Morricone: Duck you, sucker! / The Lady Caliph
Ennio Morricone: A Professional Gun
Ennio Morricone: Once upon a time in the West
Ennio Morricone: Titles (from A fistful of dollars)
Ennio Morricone: Deguello (from A fistful of dollars)
Ennio Morricone: Medley (from For a few dollars more)
Ennio Morricone: Titles (from The good, the Bad, the Ugly)
Ennio Morricone: Ecstasy of Gold (from The good, the Bad, the Ugly)
Ennio Morricone: The Trio (from The good, the Bad, the Ugly)

John Williams, the legend - (Film Music)

John Towner Williams: Hedwig's Theme (from Harry Potter)
John Towner Williams: Jurassic Park
John Towner Williams: Raiders March (from Indiana Jones)
John Towner Williams: Schindler's list
John Towner Williams: Somewhere in my Memory (from Home Alone)
John Towner Williams: Superman's March
John Towner Williams: ET Flying Theme
John Towner Williams: Star Wars Intro (from Star Wars)
John Towner Williams: Cantina Band (from Star Wars)
John Towner Williams: Binary Sunset (from Star Wars)
John Towner Williams: Yoda's Theme (from Star Wars)
John Towner Williams: Anakin's Theme (from Star Wars)
John Towner Williams: Imperial March (from Star Wars)
John Towner Williams: Rey's Theme (from Star Wars)
John Towner Williams: The Jedi steps (from Star Wars)
John Towner Williams: March of the Resistance (from Star Wars)
John Towner Williams: The Throne Room (from Star Wars)

Alive wood - (Folk music)

Anonimo: Greensleeves
Stevenson: The Last Rose of Summer
Tchaikovsky: Andante Cantabile from quartet No.1, Op.11
Dvorak: Finale from quartet "American" No.12 Op.96
Trad. Irlandese: Erin Shore / Toss the feathers
Trad. Danese: Ribers No. 8 (Sterrands Rand)
Trad. Norvegese: Vigstamoin
Trad. Danese: Fem får fire geder
Trad. Svedese: Vals efter Lasse i Lyby
Trad. Danese: Brudestykke
Trad. Svedese: Ack Värmeland du Sköna
Trad. Danese: Den Toppede Høne / Tørvedansen
Trad. Norvegese: Gammel Reinlender fra Sønndala
Trad. Norvegese: Schottis

A Xmas Quartet - (Christmas Music)

Arcangelo Corelli: Pastoral from Concerto Grosso per la notte di Natale
Johann Sebastian Bach: Brich an o schönes Morgenlicht
Georg Frideric Handel: Pifa (from Messiah)
Hans Gruber: Stille Nacht
Adolphe Adam: O Holy Night
Anonimo: What Child is this? (Greensleeves)
Trad. Inglese: The Coventry Carol
Trad. Gallese: Deck the halls
Trad. Svedese: Ack Värmeland du sköna
Mykola Leontovych: Carol of the Bells
Irving Berlin: White Christmas
Jule Styne: Let it Snow
Repertoire
The repertoire of the Random Quartet constitutes one of its main strengths; very large and heterogeneous, it has been enhanced over the years thanks to an tireless work of research, combined with a lot of transcriptions done by ourselves of songs never transcribed for a string quartet.
Downoad it here!

Comments and Reviews
Expand

"I listen to this every saturday morning to uplift me and decompress me, and spin myself back in the right direction..."&nbsp [Douglas McCann]
"just amazing!"
"Riuscite a fare della musica che davvero mi trasporta in un altro mondo... vi auguro tanto successo!"
"Wow! Nice arrangement guys. Very nice layered effect. You all ought to try out for America's Got Talent next season."
"just cant find the words..."
"Musica perfeita, arranjo de vcs perfeito! Maravilhoso! parabéns pelo excelente trabalho rapazes!"
"Ihr seid echt super!!! Weiter so!!!!"
"I heard only a "crack" in my heart.."
"Oh my Lord. how can somebody play this my favourite song like this. so beautiful"
"Original and wonderful!"
"That's pretty epic"
"Explosive, wonderful, no word to describe.."
"I'm in the ghoosflesh. please play more moreee? never stop"
"A new dimension in Nightwish music! I can say I like your cover? more that the original version... Great work!"
"Where do people play this kind of music? If i knew; i would probably visit every week, this would make me just stand there in awe with my mouth wide open"
"Cannot believe you guys made a guitar solo on the violin!?"